Central Oregon Adventure Tails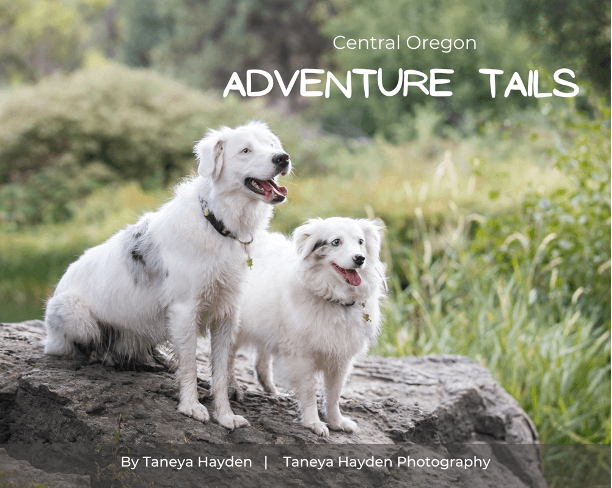 "Central Oregon Adventure Tails" is a fundraising book project I started in early 2023. This project will create a limited edition coffee table photo book that will showcase local dogs of Central Oregon and their stories of adventure at various iconic locations around the area.
This book raises funds and awareness for rescue dogs and a portion* of the registration fee has been donated directly to a local dog rescue.
*the donated amount is based on the chosen package and ranges between $75-200
The "Central Oregon Adventure Tails" book is professionally and lovingly designed and printed in the United States. It is scheduled to be released in Spring 2024. Participants will have the option of pre-ordering the book at a discounted rate.
Register Now
Learn More
– This is a special edition, hardcover coffee table book that celebrates the dogs in Central Oregon as well as the iconic scenery we have so readily available.
– All dogs are welcome (as well as any adventurous cats!)
– The focus of these sessions will be on your one dog only. If you'd like to include more than one dog, it is an additional $20 (per extra dog)
– Photoshoots will take place around Central Oregon, most taking place with 35 miles of Bend, OR
– Books are professionally designed right here in Bend, OR and printed in the US. This book is scheduled to be published in the Spring of 2024 and will be available for pre-order March 2024
– No purchase is necessary. Your session fee does NOT include artwork, digital images, or a copy of the book unless otherwise stated.
To have your dog (or cat!) included, simply register below.
After the registration period closes, we will be in contact with you to discuss locations, times and dates and most importantly to learn more about your dog.
Register Now
Mount Bachelor
Painted Hills
Smith Rock
Todd Lake
Spark Lake
Lava Butte
Badlands
Tumalo Falls
Dee Wright Observatory
Fort Rock
Paulina Peak
Crack in the Ground
Skylight Cave
Elk Lake
Proxy Falls
Register Now
*Early Bird Pricing*
Book your Adventure Package before March 20th and get $75 off! ALL Locations are available during this time. After March 20th, location-specific sessions will be released in groups of 3-4 throughout the year.