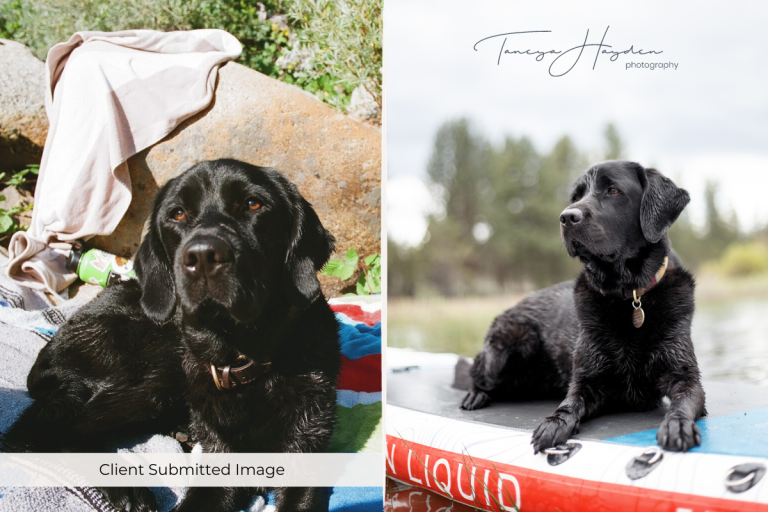 Photography holds great importance for many individuals because it serves as a means of documenting and celebrating life's moments, expressing oneself, and preserving memories and milestones in a tangible and meaningful way. While there are many different genres of photography, I will be focusing this post on pet photography. Together, we'll explore different session types, pricing, and overall value.
Types of Sessions
Here at Taneya Hayden Photography, I offer three different types of sessions: full outdoor, full studio, and specialty minis.
My full outdoor session is my Signature Session. This session is more than just photography; it's an experience! Before our Signature Session, we'll work together to plan out the best locations and get all of our ideas on the table. If you're up for it, I can usually come up with some pretty grand ideas (not always for the faint of heart, lol). Signature sessions are typically between 60 and 90 minutes but can last even longer if your pup is up for it. Signature Sessions can include all the pets and people in your household! During these sessions, we explore together, finding the best area for amazing portraits. We take multiple play breaks, eat snacks, and have a grand time together! By the end of our signature session, we'll be more than just a photographer and client; we'll be friends!
After our Signature Session, we'll meet up again to go through your images together. This is an important step because, on average, I'll have 25-40 images for you to choose from, and it can feel overwhelming to narrow it down. I work with you using my proven narrowing method, and we get it down to your absolute favorite must-have images. I'll also guide you through the different products I offer, so we can pick the ones that work best for you and your home. Sometimes that means we'll design a photo album, or we'll pick out images to showcase large on your walls. Throughout the Signature Session, I am by your side. My goal is to make this entire process as easy as possible for you to come away with artwork you love.
My next session type is my Studio Session. This session is fairly similar to the Signature Session but with a few key differences. Before our session, we'll work together to come up with our plan. We'll swap ideas and put together a rough outline for the session.
Here are the key differences:
Studio Sessions can run between 20 – 45 minutes. When your pet decides they're done with the session, it's much harder to distract them back into it due to the smaller space.
There is a limit to the number of individuals and pets I can accommodate during one session. Two adults and 3 pets are the maximum size I can take, and even that is going to be a little tight (note: pets and kids count as taking up the same amount of space, so if you have two kids and one pet, that works too).
We'll still spend our time in the studio chatting, getting to know each other, laughing, and having a good time, and we'll still come away as friends!
Due to the smaller space and the nature of the studio session, I'll typically have between 10 and 25 images for us to go through. This is a great option if you're just looking for a couple of beautiful images (but if you also love nature, I suggest the Signature Session!).
With the Studio Session, there is an option to do the Ordering Appointment immediately after our session. This saves you a trip and some time! But you're welcome to schedule the ordering appointment at a later date (typically 2-3 weeks after your session).
Aside from these differences, I give the same attention to your Studio Session as I do to the Signature Sessions. You are given the same products and have the same timelines.
The last type of session I offer is Specialty Minis. These sessions are only available at certain times and not always offered to everyone. My current and past clients get first priority, and most of the time they fill up with them. On the occasion they don't, I offer them next to my email list and lastly, to the general public. These sessions take place in my studio at specific dates and times. They typically last 10-15 minutes and have a specific theme. After our session, I send you a link to an online gallery where you get to pick your favorites and order any product. There can be between 3 and 10 images to choose from in these specialty sessions.
Session Advantages
Now that we have a better idea of what each session is like, let's discuss the advantages of each.
Signature Session Advantages:
Allows for more flexibility and creativity.

Can accommodate larger groups and/or higher energy levels.

Variety of landscapes and seasons.

Available year-round (weather pending

The full photography experience
Studio Session Advantages
very consistent look

enclosed space allows for safe "no collar" looks

zero chance of strangers or other animals showing up mid-session

available all year and all seasons

not dependent on weather or sunlight

safe space for shy/anxious/small pets
Specialty Session Advantages
quick and easy 

great if you're looking for one or two photos instead of a full experience

costs less than a Signature or Studio session

fun and themed so they're always changing. 
Here are a few real life examples of these different session types: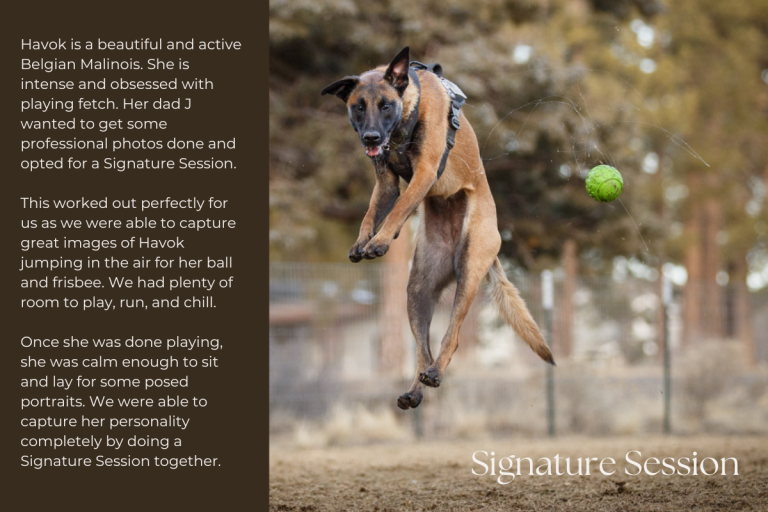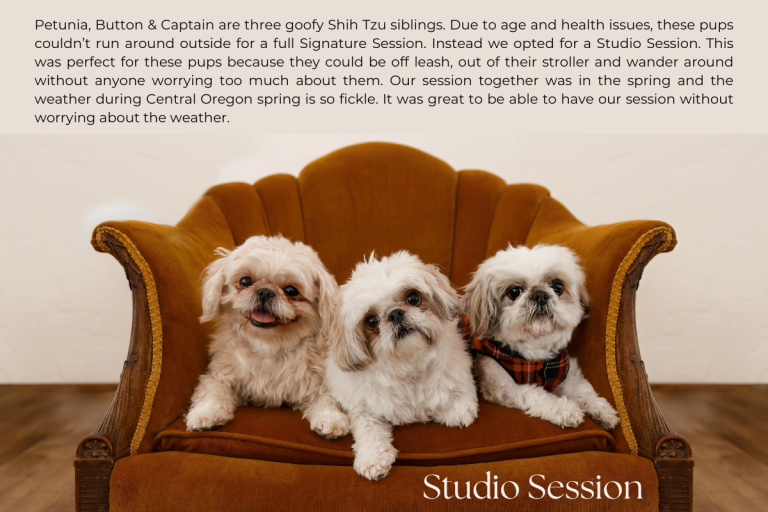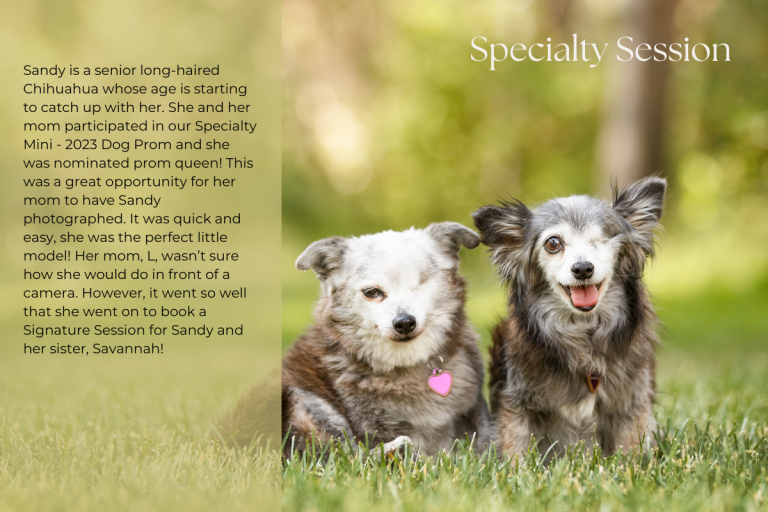 The Art of Pet and People Photography
Being a pet photographer comes with its own unique set of challenges. One of those challenges is when I have the opportunity to photograph pets with their people! There are so many different genres of photography and each photographer has their specialty. Some are amazing at creating and capturing candid moments. Others are phenomenal at posing bodies in natural and flattering ways. As a pet photographer, I am always ready to capture the candid moments as well as the inevitable action our pets bring to the table. My priority is creating beautiful images of your pet and as such, that's where my focus tends to go.
However, I also have the unique challenge of combining photographing pets with photographing their people in a flattering way. Luckily, I have a lot of experience photographing people (through weddings, family portraits, senior portraits, sports portraits, documentary, etc.). When you work with me, you get the best of both worlds! I make sure your pet engages with the camera and in a flattering position while also doing the same for you! I'll always pause to fix a piece of your hair, adjust your clothing, and give direction for a more flattering pose. Because, let's be real here, at the end of the day we're all most critical of ourselves and yet we always love our pet's photos. 
When having your pet photographed, either by me or by another photographer, its so important that your pet is engaged! They are a part of the family and if everyone is looking at the camera, they should too! One of my biggest pet peeves is when people involve their pets (usually dogs) in their family photos but the dog is ALWAYS looking elsewhere. It makes me so sad!
It's important to work with someone who understands animals, their body language, and what gets their attention. Our pets are not able to verbally tell us what's wrong or when they're uncomfortable, but the right person can read it in their body language. As someone who works specifically with pets, I pride myself in understanding my furry client's body language and we work with exactly what I'm being told. When they say they're done, we're done. I don't push it because I know we won't get any great images at that point. 
One important part of the pet photography process is having patience. There might be moments where it seems I'm just killing time and "not doing my job". What you don't see though, is I'm giving your pet time to reset, time to get used to my scent and the sounds I make, time to learn a bit more about the location before I start asking them to do things. Oftentimes, it might feel like we're not getting anything and your pet is too <insert your chosen adjective here>. If I feel like they're trying to tell me something, we'll take a break, reset and then try again. We might try the same pose several times before we get it. However, I promise you this: I am NEVER annoyed or frustrated with your pet. I am 100% ok going at their pace and taking as long as they need.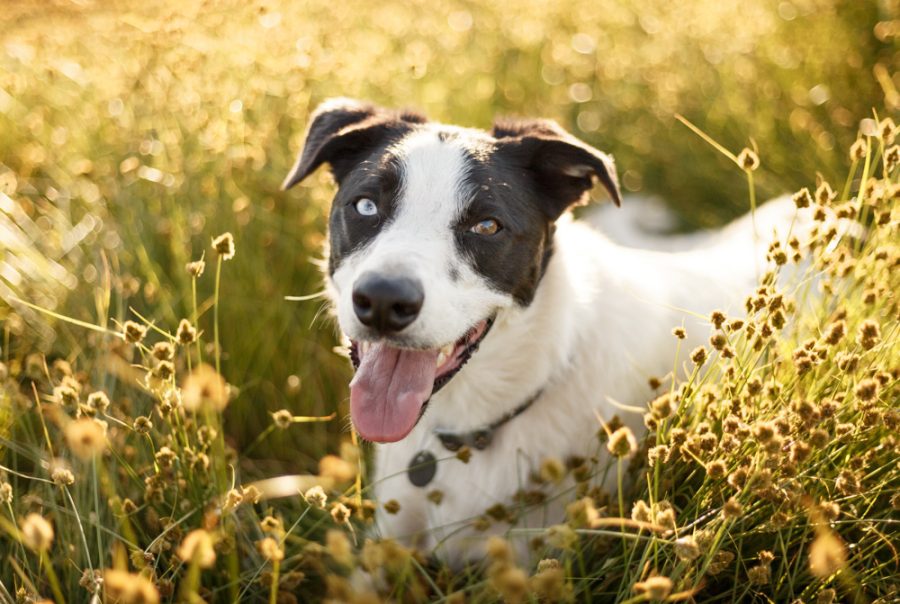 Price vs. Value
Now, one important thing I want to discuss with you today is pricing vs. value. Those two terms are interchanged a lot but they are not the same. Pricing is tangible. It is a number that is read the same by everyone. Value is completely subjective. Each of us values different things in life and that's GOOD! 
Let me give you a couple personal examples. 
There is a special litter box out there that cleans its own litter box. When I first found out about it, I was intrigued but hesitant. It was over $500 and that felt exorbitant for such a mundane household item. I mean, you can get a litter box at Walmart for $7! That's quite the price difference. However, I despise scooping litter and cats don't like to have dirty litter boxes. So I made the purchase. It has been a year and a half now since then and I have NEVER regretted purchasing this litter box. I would absolutely do it again. It holds extremely high value to me, no matter the price. 
Here's another example. My pup Bailey happens to be a hairless Italian Greyhound/Min Pin mix. He's not supposed to be but we've never figured out why he doesn't have any hair besides a bit of peach fuzz. Now, combine the no fur with his Iggy background and this boy gets cold! Needless to say, he has quite the sweater collection and I love it. One day we were at the store and I saw some adorable holiday sweaters. I knew I had to get him one, so we went over and I checked them out. When I looked at the price tag I saw they were $25 for a Small sweater! That felt outrageous to me so I put it back and left without purchasing. 
With these two examples, if we look solely at the prices it doesn't make sense that I would purchase the $500 item and not the $25 item. Obviously $500 is significantly more "expensive" than $25. But if we look at the value side of things it makes more sense. Bailey already has more sweaters than I do and he has his favorites. If I had found one that I absolutely loved and couldn't live without, I would purchase it. But that doesn't rank very high on what I value.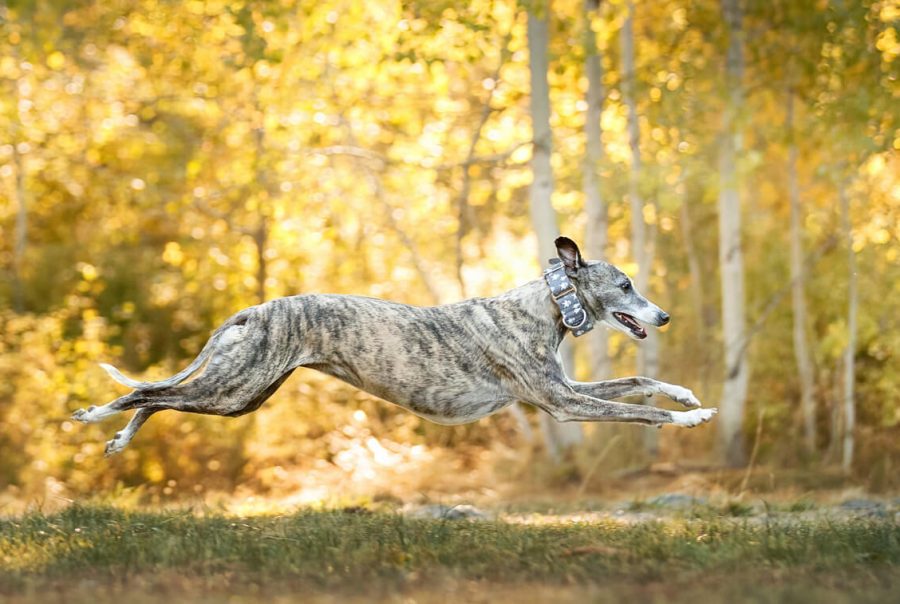 Value in Pet Photography
Ok, ok, so how does this relate to pet photography? Let's get into it. 
It's common for photographers to say they price the way they are due to their 1) gear, 2) education, and/or 3) overhead expenses, and that's fine. Those are fixed price points, the tangible part of the pricing equation. 
However, there's the subjective side of pricing as well. In addition to the gear and education the photographer has, they also bring experience and expertise to the session, neither of which can be labeled with a certain number. 
Overall pricing is reflective of everything the photographer brings to the table, including the things you may not see. If you've got a very specific session in mind it could be that only 1 or 2 local photographers are able to bring it to life. If you're looking for a general session, there are likely many, many photographers that you could be happy with. 
It also depends on what YOU value in your photos. Do you want to be personally guided through a custom experience that provides you new memories along with the beautifully captured moments? Would you rather it be as quick and easy as possible? Do you want to come away with a beautiful image but don't care about the actual session? Take a moment and think about it. What do you value/what are you looking for in a photography session?
Common Misconceptions
Here are a few common misconceptions about photography pricing: 
Expensive camera equipment guarantees quality: Many people believe that owning expensive camera gear automatically results in high-quality photographs. While good equipment is essential, the photographer's skills, creativity, and experience play a more significant role in producing great photos.
One-size-fits-all pricing: Clients may expect that photographers have a standard pricing package that fits all needs. In reality, photographers often offer different packages to accommodate various requirements and budgets.
Digital files should be free: Some clients believe that photographers should provide digital files of all images from a session for free. However, photographers often charge extra for high-resolution digital files, as they represent the intellectual property and are a source of potential income through prints and licensing.
Prints are overpriced: Some clients believe that the cost of prints is unreasonably high. However, photographers invest time in selecting and preparing the images for printing, and ensuring that clients receive a high quality product, not just something printed at Walgreens.
It's essential for both photographers and clients to have open and transparent communication about pricing. Photographers should clearly outline their services and pricing structure, and clients should ask questions to fully understand what they are paying for. This ensures that both parties have realistic expectations and are satisfied with the outcome of the photography session.
Sure you can have anyone take a picture of you with their camera. But there's added value to hiring a professional. Professional photographs capture special moments and memories in a way that smartphone snapshots often can't. These images can be cherished for a lifetime, evoking emotions and preserving memories of important life events. These portraits can also become cherished heirlooms, passed down through generations, and serve as a testament to your family's history and connections.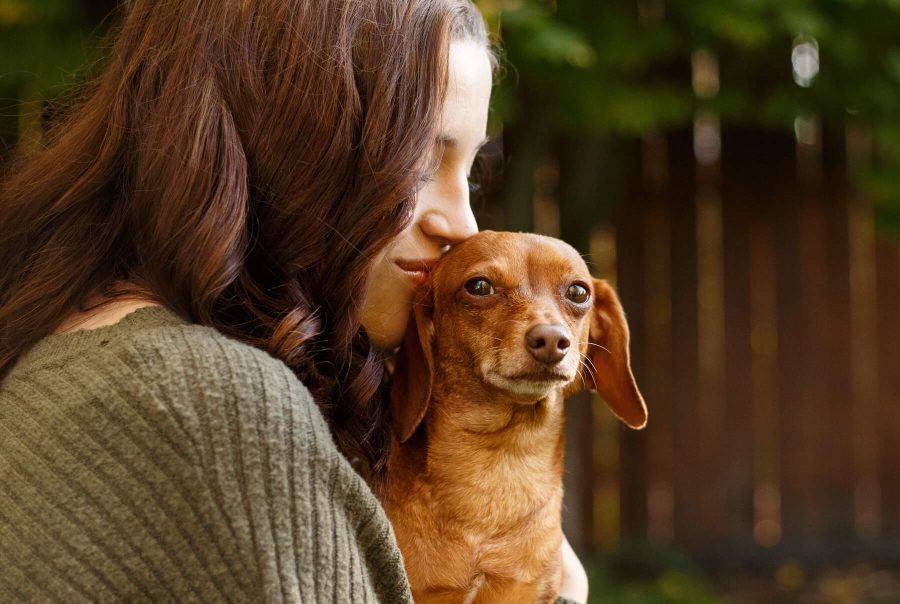 Taneya Hayden Photography Pricing
That being said, I do want to briefly touch on my own pricing. To book a session with me, I require a session fee that is paid up front. This is $250 for a Signature Session and $175 for a Studio Session. This amount covers my time during the session, prep, travel, equipment, and any other expenditures that may come in preparation for our session. This does not include any products or digital images. 
After our session, we'll get together again to go through the images created, pick your favorites, and order your products and images. My clients spend upwards of $1,000 and my most popular package is just under $4,000. 
My Specialty Sessions range in price from $97-$350 and always includes some kind of product. The price & product included varies by session.
Nikki and I booked a photo session with Taneya after a very positive experience at one of her fundraising events with Silver Linings Rescue Ranch. Taneya was extremely patient with both of us and gave direction that resulted in some truly amazing shots. She really took the time to make sure we were happy with the final results, and I was extremely impressed with not only her skill as a photographer, but also with the post production edits that took our photos to the next level. 11/10.

Ashley W.

Mom of Nikki
Taneya is the best! She was very professional, explained the details of our package clearly, and has the patience of a Saint. It was really hard to make a final decision on our pictures because A) our dog was so darn cute in every single photo and B) the quality of her work is super high quality. Thank you, Taneya! We look forward to a lifetime of enjoyment from the photos you took.

Jason L.

Dad of Chuck
Taneya was a true professional. Both of our pitties are quite the handful (that might be an understatement) and she handled them with patience and kindness. From start to finish, she made the process an enjoyable experience and we couldn't be happier with the beautiful photos of our fur babies. We would definitely recommend Taneya Hayden Photography to photograph your doggos!

Sandy R.

Mom of Roxie & Riot
Client before and after examples: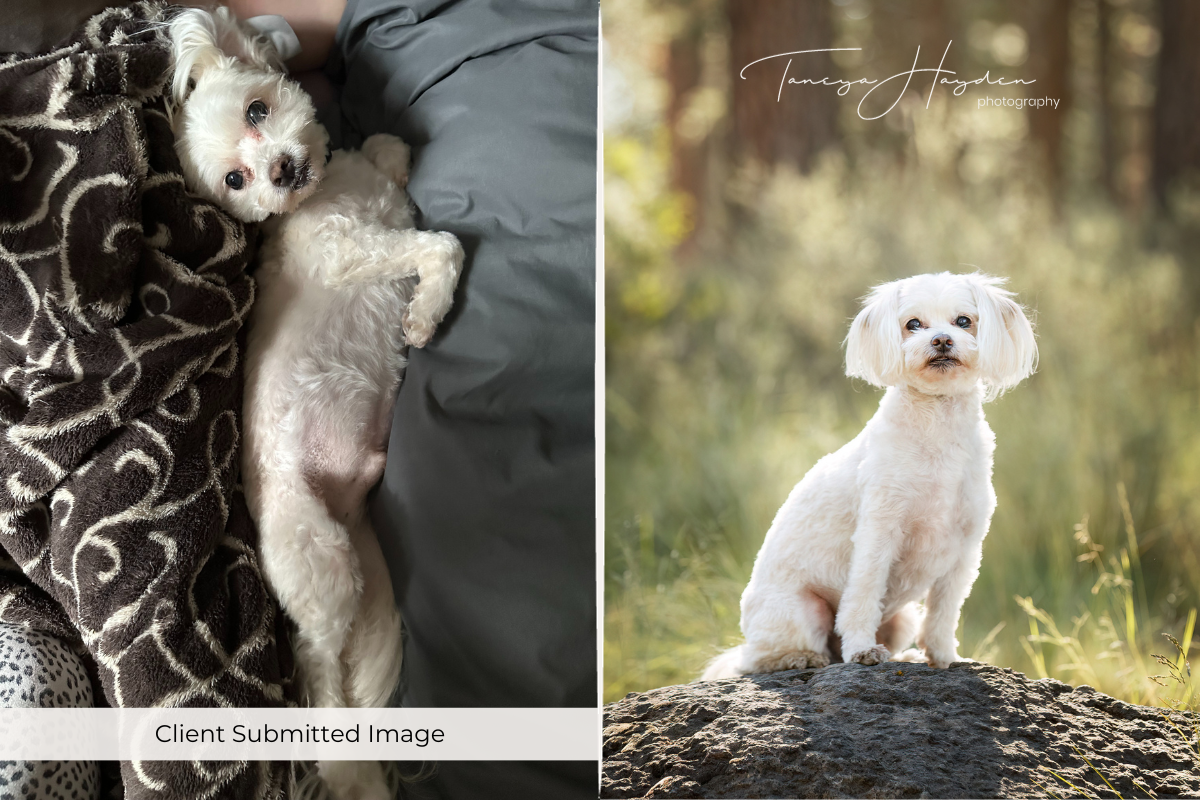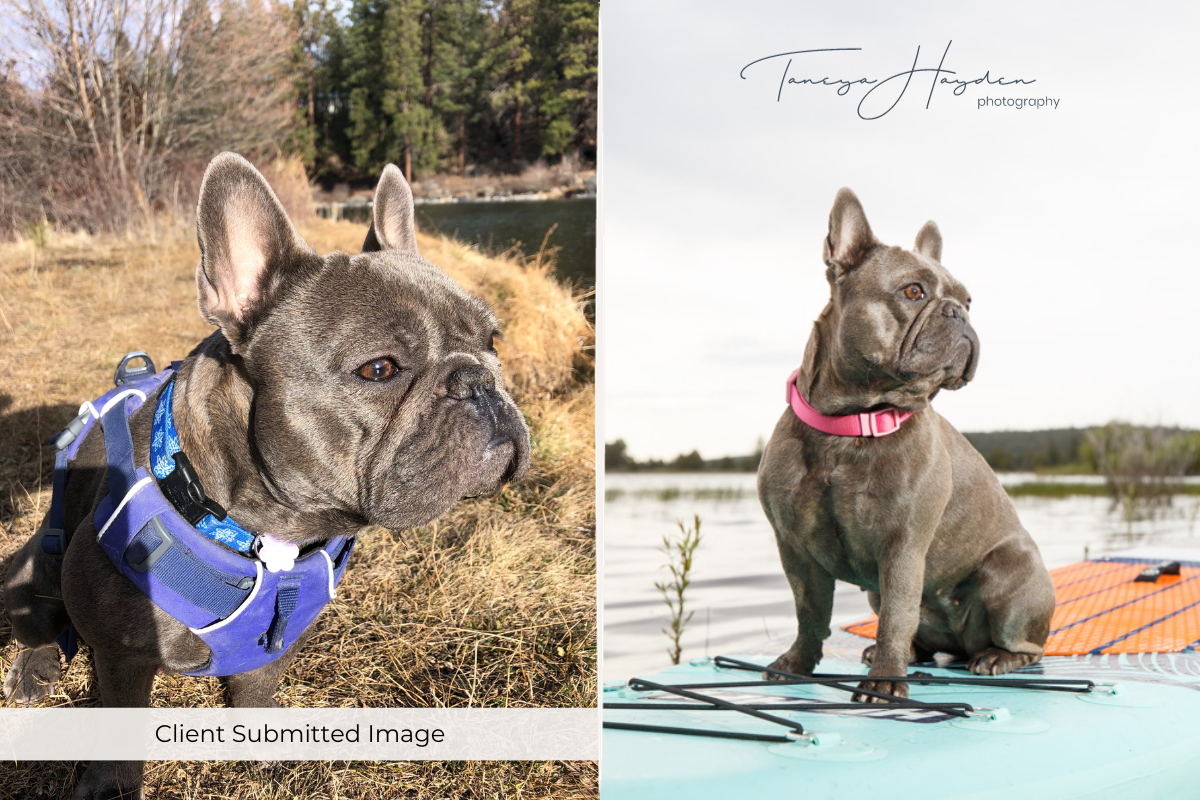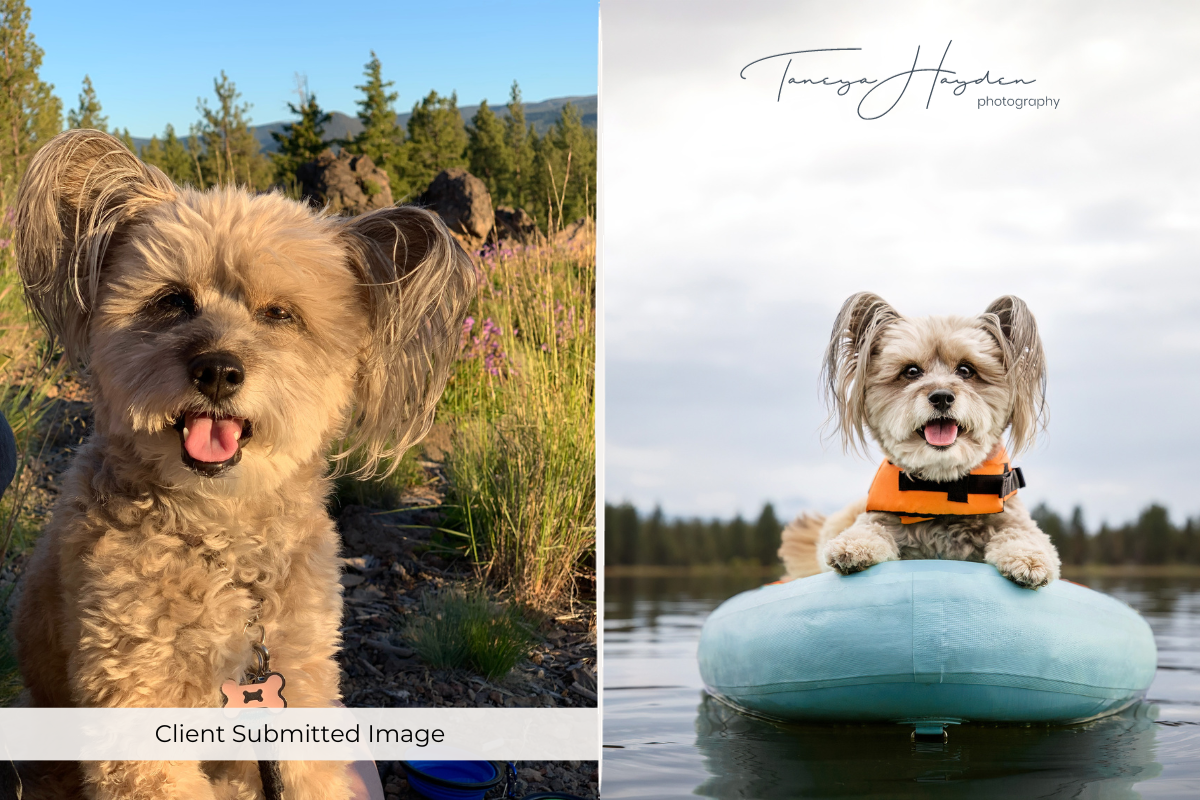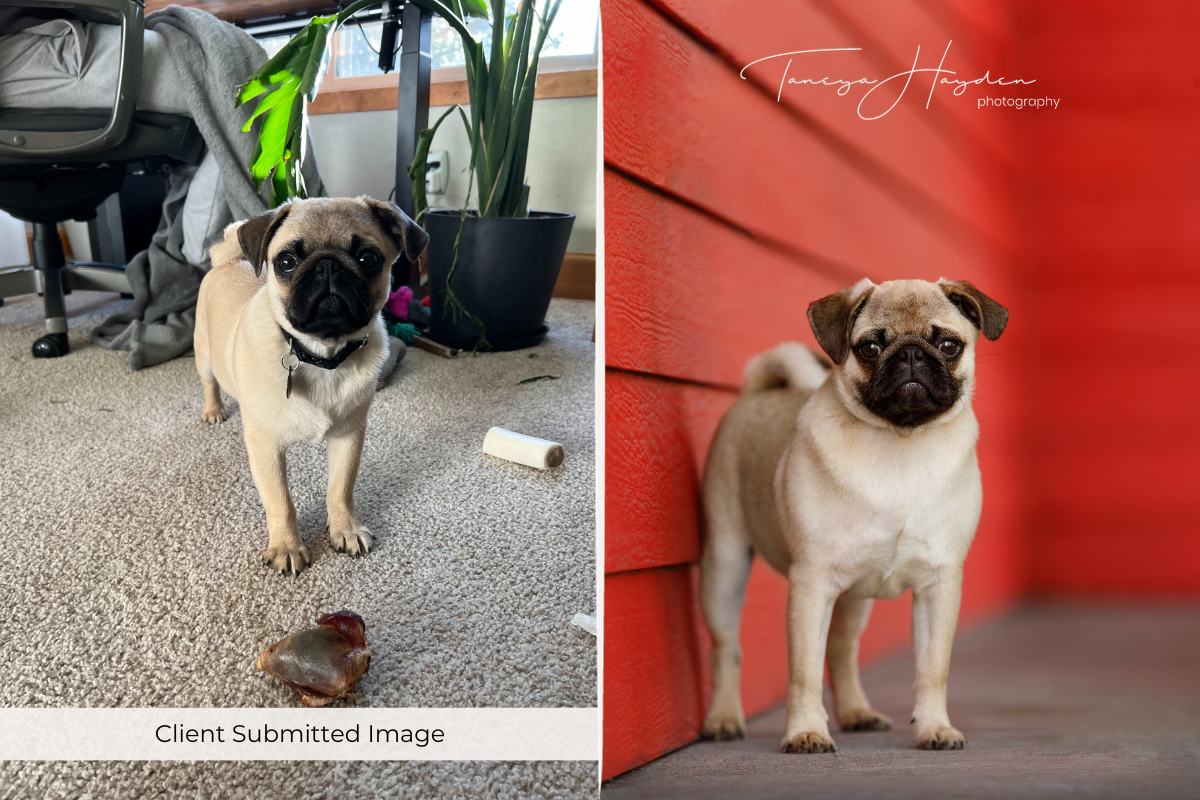 In conclusion
professional photography, whether for personal memories or specialized pet sessions, offers a unique and valuable service. It goes beyond capturing moments; it encapsulates emotions and preserves memories that can be cherished for generations. 
Hopefully you have gained valuable insights into different types of pet photography sessions and the importance of aligning pricing with personal values and preferences. It's clear that photography is not just about the cost; it's about the unique experience, expertise, and the enduring value that professional photographers bring to the table. Through transparent communication between photographers and clients, both parties can fully appreciate the long-term benefits of investing in professional photography. 
Ultimately, professional photography adds value by capturing cherished memories and providing a personalized experience that goes beyond just taking pictures.
Ready to book your session? Click here! Or get in touch and we can figure out what the best option for you is 🙂