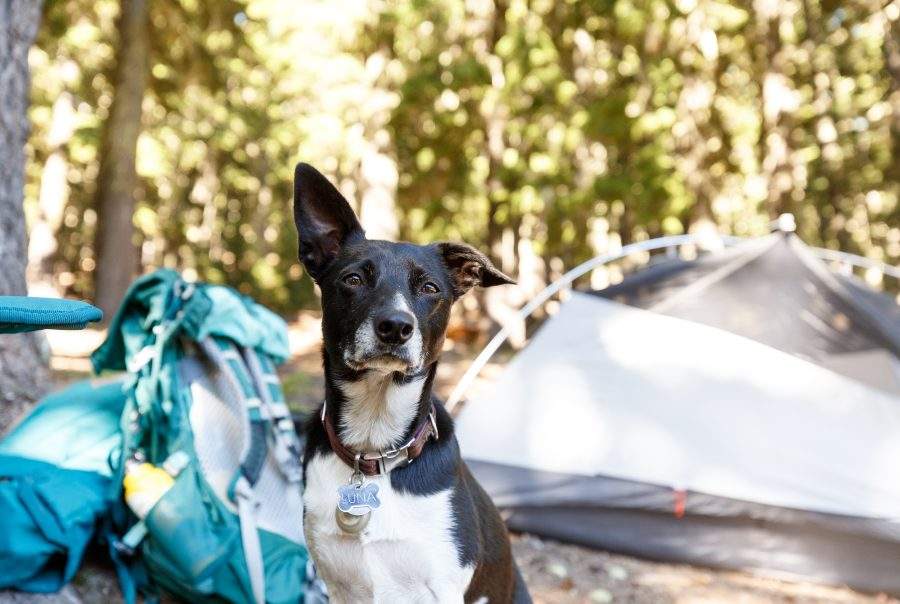 Whether you're a dog lover or a cat enthusiast, camping with pets can be a rewarding and memorable experience for your entire family, including your four-legged members. 
So, let me tell you a little bit about my family. There's me (Taneya), my husband, our pup Bailey and our two kitties, Rudy & Blue. One of our favorite family activities is going camping and yes, we are the crazy campers who bring their cats along for the trip! We've had our fair share of learning experiences when it comes to camping with pets and I thought I'd share a few tips to make your camping experience easier. 
Camping with Pets – General Tips
These are a few things that are universal for both cats and dogs. 
Bring a familiar bed or blanket from home –

This helps them feel more comfortable in a "new" environment

Make sure to pack a toy or two

Be sure their tags are up-to-date (and that they're wearing them!)
Camping With Dogs
First, let me preface this section by telling you that Bailey loves to be pampered and is more into Glamping than roughing it in the wild. My experience may be different than yours but these tips are pretty universal. 
Glowsticks or a Glowing Collar

Bailey blends into the dark incredibly well and since he's lost most of his hearing over the last year, recall can be a bit tricky. We make sure to stick a glow collar on him around sunset so we can see him as it gets darker. This is helpful too when we let him out to go potty before bed. 

Leash Zip-line

Many campgrounds require dogs to be on leash at all times. This is tricky when you only have a standard leash and your dog likes to explore. Setting up a zip-line system gives your dog the freedom to explore a larger area while still being contained and on leash. It's pretty easy to make. You've got one cable attached to two trees. Then you can attach a leash to the cable with a carabiner so your pup can move around. Here's one you can get on Amazon or you can make your own!

Treats

Camping is a great time to brush up on training. There are new distractions to work with and it stimulates your pup's mind and prevents boredom. Try learning a new trick! Just a few minutes a few times a day and your dog will get it down in no time! 
Camping with Cats
Harness & Harness Training

Your cat's first time outside should NOT be their first time in the harness. Be sure to familiarize them with it ahead of time and use positive reinforcement. This creates less stress while they're wearing it and they won't try to get out of the harness. 

Take it Slow

Cats can be wary of new places and if you've got an indoor cat, the outside world can be scary. Since we use a trailer when we're camping, we open the windows and door so Rudy & Blue can familiarize themselves with the sounds and smells of the campground while still feeling safe inside. After a day or so, we'll put them into harnesses and go for a walk. They aren't comfortable on leash yet and tend to want to hide in the bushes, so our walks consist of us carrying them around the campground. We pay attention to their body language and go back to the trailer if they show signs of stress. We also have a pop-up mesh tent we put them in so they can hang out with us outside on the picnic table. 

Litter box

We don't like to bring the litter and litter box home after a camping trip so we try to make it as easy as possible. We like to use cardboard boxes we have lying around, make sure its the right size and then line it with a heavy duty trash bag. Then, at the end of the camping trip we can toss the entire thing. We also recommend having a litter box odor remover spray. 
There you have it! A few tips and tricks for camping with your pets. Remember that every pet is unique, so adapt these tips to suit your furry family member's needs. It might take additional trial and error but with proper preparation and a focus on their comfort and safety, you can enjoy the great outdoors together and create unforgettable moments that will last a lifetime. 
 Happy camping!
Want to learn more? Sign up for my newsletter! You'll be the first to hear about deals, events, and new blog posts 🙂